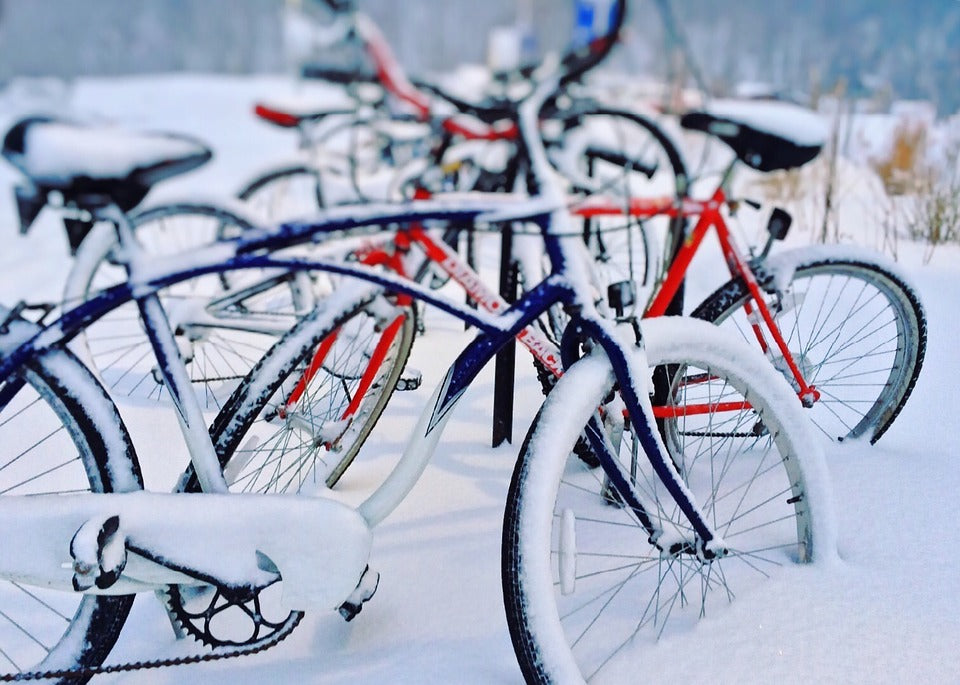 A Brief Guide to Essential Winter Cycling Equipment
Here it comes. It's that time of year again where your motivation to ride has to be pushed that much further. Where the determined are separated from the recreational.
Winter.
Winter means rides where you can no longer feel your face and hands when you get in the door of your destination, and it means slick terrain that occasionally makes it difficult to even stay up right. The weather certainly won't let up for bikers, so you need to fully prepare yourself for the cold months ahead. Here is a brief guide to the essentials of winter cycling equipment.
Layers are a must when you're doing any physical activity outdoors in cold weather. It ensures the regulation of your body temperature. The general rule is: If you're comfortable when you get on, you're going to get too hot later. Let's go from the bottom up.
Feet: While your cleats are necessary while biking, slush and cold water can get into them and create some uncomfortable situations for your feet. There are a few items you can get to ensure that your feet, and specifically toes, stay toasty warm during your rides. Buy a neoprene overshoe that will protect your feet from wind and rain while not impeding your cleats. Make sure they're not too loose however, as any gaps can let the rain in.
A fleece-lined thermal bootie can also provide some warmth, as well as some wool socks. Be sure to only wear one pair of socks however, despite how tempting it may be, as too many layers may make your shoes too tight and restrict circulation.
Legs: Fleece-lined bib tights are a must during the winter months. Be careful with fit however, as the chamois may move away from where it's supposed to be due to the additional material. You can even get tights without a chamois, as they will allow you to wear shorts underneath, ensuring even more warmth and comfort. Some come with windproof panels or are waterproof, which can be a large benefit, though this can make them feel more restrictive.
Torso: This is the area of the body where you will have the most layers. We'll start with the closest to the body and move out.
Base layer

Choose your base layer on whether or not you'll take a break during your ride. If you're not going to, a merino wool base is a good option as it's warm, soft and retains heat. However, if you stop with it, the damp base can make you colder quicker. If you will frequently take breaks, get a wicking polyester base instead.

Mid-layer

Next is a mid-layer, which depending on the temperature, may end up being your outer layer. There are numerous options for this, including a mid-weight winter jersey or a softshell jacket. Both have their merits, but you should ultimately be looking for something with a high collar snug cuffs and a close fit.

Jacket

A jacket may or may not be necessary depending on the conditions. If it is particularly cold, windy, or wet, then a jacket is going to be your best friend. A lightweight waterproof shell should be used for drizzles or brief heavy showers, and are often windproof. They can also fit into small pockets as a just in case sort of apparel. However, if you experience some serious winter weather, get a heavyweight, fully waterproof jacket. Nowadays you can find some that will keep water out while letting moisture from your body escape, so you aren't debating between boiling and being soaking wet.
Hands: There are three different kinds of gloves that you can invest in for your winter rides. Lightweight gloves will give you a little protection from the cold, but won't help with any rain. Windproof gloves will keep you even warmer, and can help in situations of light rain. If your winter includes regular downpours however, waterproof gloves are a necessity. Make sure your gloves fit, otherwise you can cut off circulation, and ensure that the grip is good so you don't lose any control. Be aware that gloves may inhibit your feel on the handlebar and controls, so be extra cautious when you're getting used to riding with them.
Headwear: We've come to the tiptop of the body, the head. Helmets are usually fairly well ventilated, but don't especially help with cold air. A skullcap or headband are often windproof, and are easily stowed for when you need them. Something like a peaked cotton hat can help with rain and will keep it out of your eyes. Neck warmers are also worthwhile during the winter months, as it keeps wind and water out of your jacket or jersey, and can be pulled up to keep the lower half of your face warm.
Make sure that you prepare for your bike rides this winter with layers that fit your conditions. It's important to stay warm and dry, so you can keep on the road.  Proper winter cycling equipment is essential.
Featured photo source: Pixabay.com