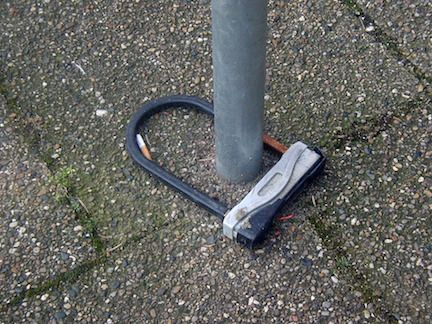 5 Methods of Preventing Bike Theft
Bike theft is a pressing concern for cyclists, from beginning riders to professional competitors. Unfortunately, the problem doesn't seem to be getting any better despite increased awareness, local prevention efforts, and advances in lock technology. According to FBI statistics, an estimated 1.5 million bicycles are reported stolen each year. That's compared to only half a million automobiles stolen on an annual basis. So what can cyclists do to deter theft and protect their property?
Step 1: Register Your Bike
The first thing you should do when buying a new or used bicycle is to register it with your local police department or an independent online registration service like Bike Index,  National Bike Registry or BikeRegistry.com.  When buying a used bike check to see if it has been reported stolen. Police use a variety of bicycle registries to check for stolen models and illegal sales. Take another step further and take pictures of your bicycle's features and identifiable characteristics should you need to challenge your ownership in the future.
Step 2: Don't Lock Your Bike Outdoors for Extended Periods of Time
Leaving your bicycle locked up outside for any extended period of time drastically increases the risk of theft. Lock your bike to a bike rack in a high traffic, high visibility location whenever possible. Avoid high risk locations whenever possible.  Secure both wheels.
Step 3: Don't Leave Your Bike in the Same Place Every Time
Commuter bike lock stations are easy targets for bike thieves, especially those looking for a gem among cheaper models. If you can, avoid parking your bike among the same bikes every time and vary your lock location. This will limit the potential for your bike to be noticed and scoped out for future theft.
Step 4: Disguise Your Bike
Taking pride in your bike is important to many cyclists, but high-end, flashy bikes are easily recognizable to would-be thieves. Covering your bike's branding with a protective fabric or vinyl layer may keep wayward eyes from taking note of your property.
Step 5: Use a Good Lock (or Locks)
It's far too easy to break most common bike lock systems – even high-end ones. Beware of lock company 'security ratings' and their theft insurance guarantees; they rarely pay out.  Look for locks that have been certified by a credible independent lock rating agency like ART® foundation of the Netherlands.  One system that's been proven to deter thieves and keep even the most valuable bikes safe: TiGr® Locks! Rigorously tested in the laboratory and the real-world.  TiGr® Locks are the lightest weight bike locks with an  ART® certification. Learn more about the capabilities of the TiGr Lock system or check out our store page for more information.
Image source, labelled for reuse